Logifem has given me support and security through the intervention workers who are amazing.
Security, stability. Logifem has given me a new confidence in myself.
Logifem gave me a roof over my head and ways to get back on my feet, time and assistance to solve my problems and to reorganise my life. It has been an inestimable help of empathy and support.
The opportunity to take care of myself. Also to live in community. I love the extraordinary sharing. I am sure that it is going to go well. The intervention workers are super kind and human. I feel privileged to be able to live at Logifamille. Thank you to all of you.
Emotional support, home stability, increased confidence, escapes from homelessness.
The joy of living. Self-respect.
I want to say thank you to Logifem for your services and dynamic energy and the fact that God is present.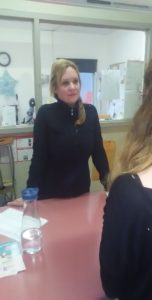 As I approach my seventh year working at Logifem I reflect back on everything that moved me to dedicate my life to social work and helping others.  I have always been extremely thankful for the wonderful things I have been blessed with in my life: a loving family, caring friends and a rewarding career that I enjoy.  When I take the time to think about the love and support I have in my life I am saddened by the realization that not everyone is so fortunate.  I decided to share the (wealth) I have in my life with those in need and am again fortunate that my career at Logifem allows me to do that on a daily basis.  The women we see pass through the doors at the shelter have all come to us from different backgrounds, experiences and difficult times in their lives but one thing they all share is the courage to make the first step in the direction to a better life.  The women I have had the privilege of meeting and helping over the years have shown courage, strength and determination.  I am proud of the work that I am doing at Logifem and grateful to have met and been a part of a positive change in these amazing women's lives.
Keely McGlynn, intervention worker