Get Help
Admissions
Logifem admits women with or without children to its shelter on an emergency basis, for one or two nights, or on a longer term basis for up to a year. We also have fourteen transitional apartments (seven for women without children and seven for women with children) priority for these apartments is given to residents of our shelter.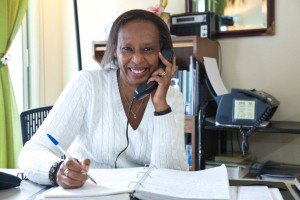 Our admissions criteria are outlined on this website as well as the process we follow with our residents.
Every Tuesday afternoon we hold an information session at 1.30 pm at our Resource Centre.  Women who would like to stay at Logifem can come and find out more about our services.  Social services professionals are also welcome to participate if they would like to know more about Logifem.  Following the information session, women who would like to stay at Logifem can fill in an application form and discuss their circumstances with the Intake Worker.
If you would like to participate in the information session or find out more about coming to Logifem, please call an Intervention Worker on 514-939-3172.
Criteria
Who can become a resident at Logifem?
Women admitted to Logifem's emergency program must fulfill the following criteria: 
Aged between 18 and 65
Have an urgent need for accommodation
Have not had any problems with drugs, alcohol or gambling within the last six months
Willing and ready to move on after the agreed length of time (one or two nights)
Willing to respect the house rules
To be admitted to the shelter for up to one year women will fulfill the following criteria:
Aged between 18 and 65
Physically able to manage the stairs to the third floor and to do various chores assigned to residents each week (washing dishes, washing one of the bathrooms etc.)
Able to pay the monthly rent, which also covers all meals and access to the washer, dryer, TV and computer

$400 for an individual bedroom
$50 per child over six months

If the person is dealing with addiction they must have an external follow-up for this
Take any medication required as prescribed
Desire a follow-up by an intervention worker
Willing to respect the house rules
Criteria for children
Children must be aged from 0-12 years
Logifem accepts children at the shelter full time, or for visits if the mother does not have full custody of her children.
Residents interested in the transitional apartments may discuss this with the intervention worker during their stay.
Process
In order to be accepted at Logifem
In an emergency situation (one or two nights only):
The client should call the Intake Worker at Logifem (514-939-3172), who assesses the situation by doing a phone interview.
If Logifem can accept the client, a time is established when she can arrive at the shelter
To be admitted to the shelter on a longer term basis (up to a year):
The client should call Logifem herself (514-939-3172) to speak with the Intake Worker, who will invite the client to an Information Session (held every Tuesday at 1:30 pm) so she can find out more about Logifem.  If the client's need is urgent and she cannot wait until the next Information Session, an individual interview can be arranged.
The client's case is examined by the Intervention Team to determine if Logifem is the right resource for her. If the client is accepted, a date and time is established for her to move into the shelter for a two week evaluation period. If the client is not accepted, an Intervention Worker will discuss resources that might be more suitable.
The evaluation period
The evaluation period exists to ensure that Logifem is the right fit for each resident and that she receives the resources she needs, whether with Logifem or through other programs more suited to her situation. The evaluation period helps the resident decide whether she feels comfortable at Logifem, and allows Logifem to observe how well she is adapting and her ability to respect the routine of the house and the house rules.
If at the end of the evaluation period a decision is made that the resident will remain at Logifem, she will be assigned to an Intervention Worker who will follow her through her stay. If it is decided that Logifem is not a suitable resource for the resident, the Intervention Worker will help her to decide what she should do next.
Advice
If you think you could benefit from Logifem's services, call Logifem at 514-939-3172 and tell us about your situation.
Logifem is a confidential organisation. It does not give information relating to any resident to any other person or service without authorization from the resident.
If you are living a situation that involves conjugal violence, there are many organisations that can help you. You can call Logifem 514-939-3172, or SOS Violence Conjugale  1-800-363-9010. The government also provides helpful advice on who can help you and how to make a safety plan for you and your children.
---
Staying at Logifem
Once the resident is assigned to an Intervention Worker, a tailored plan is created to help the resident achieve the objectives she has set herself. Weekly meetings with her worker help ensure she is on track to meet these objectives. Throughout her stay the resident has access to the Intervention Team 24 hours a day, 7 days a week. The resident is also encouraged to participate in a number of activities.
Leaving Logifem
When it is time for the resident to leave Logifem, she is given a departure date. Before leaving, she is encouraged to reflect upon her stay at Logifem and what she has achieved during this time, and is also asked to fill in a survey to help Logifem understand what went well during the stay and whether there are any things that could have been better. In this way, Logifem seeks constantly to improve its services.
---