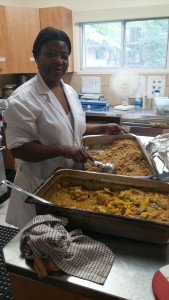 Residents at Logifem's shelter receive two cooked meals a day plus a self-service style breakfast consisting of cereals, toast, hard boiled eggs, muffins, bananas, tea, coffee and orange juice. We use a two week menu template to ensure residents receive a healthy variety of food, but our cook must be prepared to improvise since 75% of our food is donated by Moisson Montréal. Each week the menu is adapted to accommodate the food donations we have received.
Our cook, Beatrice, works Monday to Friday preparing two meals a day plus the meals for the weekend, which are either frozen or put in the cold room depending on when they are prepared.
We are grateful to all the volunteers who come in to wash and chop vegetables and to serve meals to our residents. These volunteers are a great help to our staff team and the residents appreciate their friendly presence. We have also benefited from interns from McGill's school of Dietetics and Human Nutrition who have given valuable advice about how to improve our menus.
All staff members can have their lunch or supper at Logifem, depending on which shift they are working. Here is one of our favourite recipes (pictured), normally served with rice:
CHICKEN CURRY RECIPE
8 pieces of chicken
2 tbsp curry powder
½ tsp garlic
½ tsp ginger
3 medium potatoes
1 cup of diced carrot
1¼tsp salt
1 medium onion (diced)
1½ cups chicken broth
1 cup corn starch
Wash chicken with lemon or vinegar. Turn into a saucepan on medium high heat
Add diced onions, curry powder, ginger, garlic and salt. Sauté for about 10 minutes
Mix corn flour and broth together, add to the chicken and stir for 5 minutes
Cut potatoes into cubes, add to the chicken and bring to simmer
Reduce heat to low, add carrots, cover and cook for about 15 minutes or until chicken and potatoes are cooked through