About Us
Logifem provides shelter and care to women and children in Montreal. Our vision is to be a force of transformation in the lives of women in difficulty. Logifem has a shelter that can accommodate up to 20 women with or without children.  Residents are admitted to the shelter on an emergency basis for one or two nights, or on a longer term basis for up to a year.  We also have access to fourteen transitional apartments where women with or without children can stay for up to three years. Through our website you can find out more about our admissions process and criteria, our services and the various activities we offer to residents.  If you would like to support the work of Logifem you can donate, volunteer, or check out our job postings.
History
Logifem has provided shelter and care to women in difficulty in Montreal since 1988. The organization is a result of the social conscience of a group of individuals at Saint Joseph's Anglican Church in Brossard, Québec. Being acutely aware of the urgent needs of the homeless in Montreal, particularly women,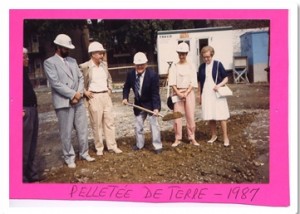 Mr. Irvine Benoy (Logifem's Founder) and others combined their efforts to make a real difference. In 1987 plans began to open a shelter and in December 1988 Logifem received its first client.
Over the years, Logifem has gone on to specialise in providing longer term care to women in difficulty by allowing women and their children to stay in the shelter for up to a year and adding transitional apartments to the services we offer. While our focus remains on longer term care, Logifem also accepts women and their children in short term crisis situations.
Mission
Logifem's mission is to help and empower women in difficulty (with or without children) with physical, social, emotional, psychological and spiritual needs to face the future with strength, courage, hope and dignity.
Vision
Our vision is to be a transforming force in the lives of women in difficulty.
One of our residents talks about her stay at Logifem here.
Values
Guided by Christian principles, with love and compassion, Logifem commits to value and respect all individuals, maintaining integrity, confidentiality and accountability while conducting itself in a professional and ethical manner.
---